Media Partners
Candice Modiselle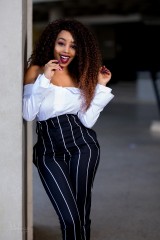 Candice Modiselle is a young rising star, a multifaceted artist, public speaker, television presenter, actress, radio host, theatre practitioner, lecturer and brand ambassador, born and bred in the City of Johannesburg.
She recently completed her Honours, a Bachelor degree in Dramatic Arts- majoring in Dance Theatre and Arts Management with Choreography and Creative Composition as her Research Project. Being a young lady with an immense love for the arts, particularly Drama, she has participated in a number of professional stage productions on both the Wits and Grahamstown National Arts Festival platforms. Candice has also gone on to choreograph a dance theatre production, Unbecoming, which featured at the opening of the Wits Detours Festival. She later choreographed and performed in her solo production- And When You See Him at the SA's Dirty Laundry Festival in December 2016.
As an actress, the past 6 years have seen her feature as the lead role in two Durban Film Fest Movies produced by Natives At Large and the Youth Filmmaker Project, namely Thato and Bittersweet. In April 2016, Candice Modiselle went on to join the YOTV family as one of its newest presenter additions and was religiously on television screens nationwide daily at 15h30, SABC 1, until she announced her departure on the 1st of June 2018.
Her achievements in the past 2 years have caught the eye of a number of public platforms and gained coverage as a budding artist on the rise, many of which have deemed her the third 'Modiselle Sister taking over showbiz'. Another
Candice wrapped up 2017 joining online radio platform, Massiv Metro, as a co-host on The Domino Effect, every Tuesday and Thursday at 11am-12pm. In April 2018 she announced that she would be hosting the weekend breakfast show, Monate Breakfast, alongside DJ Fingers from 6am-9am.
She recently starred in the Liberty and Calgro M3 film as the lead, Grace Mogorosi in One Way To Graceland, a film that serves to educate students on financial literacy, earning, saving and spending wisely. The film was show in Ster Kinekor Cinemas throughout the month of May to students under the "Smartbucks Mind Your Moolah" Primestars programme.
Candice Modiselle can currently be seen presenting on variety and lifestyle show, Selimathunzi on SABC1, 19H30.
Having partnered with numerous established brands, such as Forbes Africa and CNBC Africa as the first official host of the Forbes 30 Under 30 Meet Up, she considers herself a brand that's an exemplary youth figure that can also cater to various markets. She believes that though she has many accolades under her belt at a young age, this is only the beginning for her promising career. Candice aims to become a household name whose deeply rooted passions as a multifaceted artist will catapult her to international stages and screens.
See other speakers
Maserati - Driven by Tomorrow's Leaders
Sponsors
<