Media Partners
Lebo Gunguluza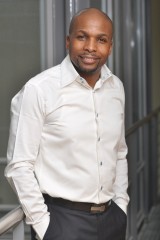 Lebo Gunguluza, Entrepreneur, Turnaround Strategist, Inspirational Business Speaker and Dragon Investor on SA's Dragons Den TV Show - known as the "The Breakthrough Entrepreneur"
Mr. Lebo Gunguluza joined the professional speaking fraternity in August 2011 due to the demand created by his inspirational story of overcoming tremendous odds to succeed. By December 2011 he was chosen as one of the Top 3 new motivational speakers of 2011 in South Africa by a leading speaker bureau.
Lebo was also chosen among many to be a Dragon on South Africa's first Dragon's Den TV Show, an internationally acclaimed TV Show started in the UK, which started broadcasting on DSTV's Mzansi Magic from 23 September 2014.
At the age of 27, he became one of South Africa's youngest self-made black millionaires, without any funding or tenders from government, and over the years he built a multi-million rand empire where he had to overcome tremendous odds on his entrepreneurial journey. He is one of the key founders and President of the South African Black Entrepreneurs Forum (SABEF) to address issues facing black entrepreneurs in South Africa. Gunguluza adapted the title of "'The Ultimate Breakthrough Entrepreneur" and was awarded with the "Africa Heritage Youth Entrepreneur Award" five years later. He also became a resident millionaire youth entrepreneur on a youth TV programme called "Take 5", where he guided, motivated and inspired aspiring youth entrepreneurs who are starting or running their own businesses. He was honoured by the Millionaires Club with the Leadership Award in May 2010, and later received the Bethesda Business Award for his contribution to the development of Entreprenuership in South Africa.
He is the Founder and Executive Chairman of the Gem (Gunguluza Enterprises and Media) Group established in 2002, an integrated media and hospitality group with interests in companies that serve in the media, communications, hospitality and IT spheres.
Mr. Gunguluza has extensive experience in communication and media having consulted as National Director of Media Communications for membership-driven organisations such as Nafcoc and the Institute for Local Government Management. Mr. Gunguluza's career started at SABC where he was responsible of promoting the African Language stations, and later Metro FM. He then left for a broadcasting course in the US, and came back to join Herdbouys Advertising. That is where he gained strong understanding of the media and advertising business. His journey as an entrepreneur started in entertainment through his first company Gunguluza Entertainment and later refocused his businesses towards corporate communication and media spaces.
He then later founded the Gem Group which has diversified to various portfolios within the media, leisure and hospitality space which include publishing, television, communication technologies, restaurants, hotels and resort properties. He is also the Chairman and Principal Consultant of the Local Government Business Network (LGBN). Having an interest in Uhuru Communications, has had him oversee the Commercial Direction of Uhuru Publishing, which published Sawubona - SAA's inflight publication, Metro Live - Metro FM's new publication, and currently publishing government related publications such as Municipal Focus, distributed to all municipalities in South Africa, and published Public Sector Manager (PSM) which is distributed to all Government Directors in the country and SEO Review, which is distributed to all State Owned Entities.
One of his entities Izani Media, which has various divisions that were initiated through his 12-12-12 mentorship programme that finished on 12 December 2016, where 4 entities were adopted as the final beneficiaries of the programme. These include Izani Publishing, which has become the first 100% black youth woman owned magazine publishing and distribution company in South Africa, which produces contract publications on behalf of corporate, special events and government. This entity has to date published annual magazine for most major events in South Africa, including the Metro FM Awards, the South African Music Awards, the South African Film and Television Awards, the Joy of Jazz Festival and the Delicious Festival among others. The other entity is Intouch Africa, a specialist communications and events management company, which creates major events for corporate and public sectors. Intouch Africa works closely with Moove Events and Exhibitions, an events furniture and decor company where Mr. Gunguluza acquired an interest and is the director and Executive Chairman. Moove started 3 years ago, holding 375 square meters of furniture and decor, now it holds 8000 square meters and has become the biggest black owned furniture, decor and exhibitions company in South Africa. His interest in Africa has been growing steadily, starting in the neighbouring countries through his portfolio of businesses in Botswana, with companies such as Rosewell Chauffeurs, the leading chauffeur drive company in Botswana, as well his planned establishment of an events infrastructure and furniture company, and a hotel in Gaborone. Mr. Gunguluza has always had interest in the transport sector through the establishment of the fourth company that he retained under the 12-12-12 programme, Gem Driven in South Africa, which is backed by Pastranscor, South Africa's leading VIP and Diplomatic Transportation company that provide and manages Executive, VIP and Diplomatic transportation from providing Air Charters, Yachts, Armoured and Luxury Vehicles to both government and private sector, with the intention of becoming the biggest black player in the VIP Transportation space in Africa
Mr. Gunguluza also a Director of Government Property Management (GovPro) which specialises in helping municipalities and government manage their land and immovable property better and enhance their revenues, by also installing the best systems that have been proven to work. In expanding his hospitality portfolio, Mr. Gunguluza recently launched the Izani Media and Hotels, administered by Izani Hotels which provides communications and hotel management solutions to forward thinking luxury hotels that want to provide a great guest experience. Izani Travel was launched in 2010 which provides and manages executive travel solutions, hospitality and holiday packages for corporate, VIPs, government and high-end consumers. The Izani is an entrepreneurship developmental and mentorship initiative that Mr. Lebo Gunguluza launched on 12 December 2012 called 12-12-12, where he committed to recruiting 12 Entrepreneurs, every 12 Months to run 12 Enterprises. The programme focused mainly on media, hospitality, communications and technology entrepreneurs, which supported more than 30 very dynamic young black entrepreneurs over the past four years. Mr. Gunguluza learnt a great deal about entrepreneurship, mentorship and their reality through his initiative and has been sharing these lessons since the beginning of this year as he feels they will liberate the African mindset and the youth.
For more information on Gunguluza's activities visit www.sabef.org.za, www.intouchafrica.co.za, www.gemgroup.co.za, www.izani.co.za
See other speakers
Maserati - Driven by Tomorrow's Leaders
Sponsors
<