Media Partners
Max Moyo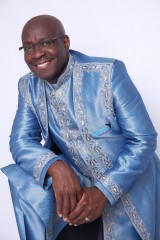 Max Moyo never once envisioned a future of entrepreneurial stardom. Growing up, he spent his days captivated by his grandfather's oratory prowess, and the transformative ability of the spoken word. Today, Max transverses the globe as a world-renowned dynamic speaker, author, wealth catalyst, brand internalization specialist and human transformation coach. A former financial services and petroleum industries executive, Max's deep-rooted yearning for mental emancipation, his passion for people, and thirst for advancement, led him to embark on a journey of self-discovery. This culminated in the birth of Ignite My Potential, and organisation in which Max is the Founder and CEO. The organization provides tailored inspirational and transformative books, seminars, talks, as well as workshops; that are a catalyst and enabler of human transformation. He uses this podium to not only deliver his riveting and evocative talks and life lessons, but to also ignite individuals to live a life beyond mere existence.
The former sales director, who once served long stints honing his skills for giants such as: Old Mutual, Sanlam Life, Discovery Health, Liberty Active, Allan Gray Limited amongst others, has also consulted and spoken for the likes of Standard Bank, SuperSport, DSTV, Law Association of Zambia, Guardian Life Group (Jamaica), and various other governmental institutions both within the continent and abroad.
Max is a highly sought out resource in business, professional and religious circles where he seeks to motivate leaders looking to embrace their irresistible difference, and harness their unique talents, in pursuit of their unique purpose. Like most people, he has on a personal level experienced many obstacles in life. Born in Gweru, Rhodesia (now Zimbabwe) at the height of racial discrimination, he attributes his combined experiences as the necessary pressure cooker to transcend adversity, and attain self-actualization. It was during these moments that he discovered how to translate a need into a solution, how to overcome prejudice and turn it into acceptance, and how to overcome pain by turning it into strength.
"My mission is to be a loving coach, teacher, student and an example of simple, universal and timeless principles of human effectiveness, which help me and others to awaken, reinforce and expand the presence of God in our lives"
Today, the former alumni of Manchester Business School and Andrews University not only consults widely with a diverse array of organizations and groups from all walks of life, but has also authored:
The Leadership Series:
Become Yourself
Who Moved My Ladder
8th Wonder Of The World
His most acclaimed books Become Yourself and 8th Wonder Of The World, seek to help people redesign and transform their lives. His depth, diverse outlook, humour, and straight talking - yet zen demeanour ensures that he is just at home speaking the language of global connectivity, as he is indulging conversations on the merits and demerits of Africanism. This unique and intrinsic ability to appeal to people from different cultural backgrounds, as well as social and economic standings whilst altruistically connecting with them, is what has positioned him as a much sought after international public speaker.
See other speakers
Maserati - Driven by Tomorrow's Leaders
Sponsors
<