Media Partners
Nondumiso Mthwa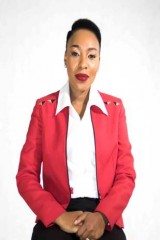 Nondumiso Mthwa is the Founder and CEO of Idwala Property Group, a real estate firm encompassing property management services, selling and leasing of residential and commercial property as well as plots and farms. Nondu is a Qualified Real Estate Professional who has been in the real estate industry since the year 2005. She holds the SAQA qualification in Real Estate as well as a Certification in Estate Agency as per the Estate Agency Affairs Board Examination. She serves as a FICA Compliance officer of her company, Idwala Property Group. She has served as a Board Member of IEASA (Institute of Estate Agents of South Africa) KZN and Coastal Region. Nondu is currently studying a BCom. Degree in Business Management.
Nondu was awarded as the Franchisee of the Year in 2014 in her previous property franchise group where she was a principal. Her branch won the Franchise of the Year award in that same year. She was featured in the Top women Magazine in 2017, featured on the Sunday Times Celebrating Women Edition 2018, other local Newspaper editorials, as well as community and commercial radio interviews. She recently featured on the eTV/eNCA Forerunners. She was recently enrolled as a nominee for the 2018 AABLA (All Africa Business Leaders Awards) in the Business Woman of the Year category.
Nondumiso's passion for people and effecting transformation in the Real Estate industry is what drives her to build a trusted and highly regarded Real Estate Company with a national footprint. This is, among other things, expressed in the Mentorship Programme that Idwala Property Group is running (together with the Services SETA and EAAB), which is spearheaded by the group Chief Operations Officer, Thulasizwe Mthwa.
Her ultimate goal is to be recognized as a Thought Leader in the South African Real Estate industry, effecting transformation that is inclusive and empowers all stake holders.
Nondu is a happily married wife to Thulasizwe Mthwa, and a mother of 2 boys (Zenzo and Cebo). She is a God-loving, God-fearing woman who believes in total life prosperity: spirit, soul and body.
See other speakers
Maserati - Driven by Tomorrow's Leaders
Sponsors
<