Media Partners
Ntebo Lesetla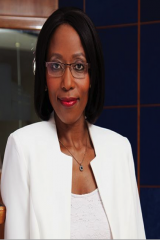 Ntebo Peri is an accomplished Broadcast Journalist and a Corporate Executive. An entrepreneur at heart who heads four companies including her foundation which deals with homeless people and orphans. CEO for the Jezreel Group, Director for Loliwe Travel, a founding member for Jezreel Ministries and Ntebo Lesetla Foundation. Ntebo is the first African Woman to establish a unique Tourism Train Business Concept called (Loliwe Tourism Train which promotes travel and tourism in SA) She has featured in Top Business SA Magazines & Business News. A loving and dedicated mother of five children- 4 Boys and her Princess- and two "adopted" girls that she mentors. A Gospel Teacher who believes was called for the market place and governance. A philanthropist who always strive to see social justice, poverty alleviation and safety and security being prioritised in Africa. Her passion is to ensure that Africa as a continent is liberated from what she calls "Economic Oppression" Ntebo is known on screen in South Africa. (SABC) A former talk show host who also became versatile with her good sense of reporting both nationally and internationally.
She is a recipient of the Africa Impact Leadership Award on Social & Economic Sustainability in Africa. Ntebo always has the passion for turning the best ideas into shows that educate, inform and inspire viewers from different backgrounds. She has accomplished the following in her career as a renowned journalist and business woman in South Africa:
Wrote and produced compelling investigative and human interest stories on Economic. Political & Social Development in South Africa and Africa.
Personally interviewed different Heads of State from across the World including the first democratic president in SA – Nelson Mandela.
Administered and assisted various NGO in South Africa dealing with women, youth and unemployed.
Her company has won prestigious awards for standing out as an innovative business in various business sectors.
Ntebo was invited by the American News Channel CNN in the year 1998. She reported on the political news of South Africa and has interviewed South African/ African and International Heads of State as well as Business Leaders from across the globe. The show covered business issues, race relations and developmental stories for women in Africa. The show attracted many viewers nationwide sparking interesting and relevant issues affecting women and youth in particular young girls.
- In addition she Delivered brand awareness and growth for clients in Telecommunications, IT and real estate sectors, advertising and marketing
See other speakers
Maserati - Driven by Tomorrow's Leaders
Sponsors
<