Media Partners
Roger Boniface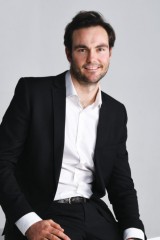 Roger is the managing director of three vastly diverse companies. He heads up JCB Wholesale, a textile wholesaler who specializes in the import and export of textiles in South Africa. Roger also heads up and founded EDISIM, a Capsim preferred partner in Africa, which is a training company that focuses on experiential learning using industry leading business simulations. He is also the MD and founder of Artson, a boutique events company that hosts public and private social events.
On a full soccer scholarship in the USA he graduated with a BBA and a MBA in Supply Chain Management from Clayton State University.
Roger has extensive experience in lecturing, experiential learning and entrepreneurship; his record proves he has the expertise, vision, acumen and determination of a serial entrepreneur. Since his return to South Africa in 2014, he is at the helm of 3 businesses, founder of 2 of them, lecturing in Executive Education at some of Africa's top Business Schools and corporates and he is named as one of the 30 Most Promising Young Entrepreneurs in Africa in Forbes Africa's 30 under 30 for 2018.
Roger is an unconventional thinker with a passion for ideas, people, strategy and business development. An unusually broad range of coaching, creative and supply chain skills and the drive for implementation to achieve change, have been the attributes to many successes and failures.
Roger is a proponent of Africa's potential through leadership, accountability and commerce, a "Has Been" sportsman and a "Never Will Be" golfer.
See other speakers
Maserati - Driven by Tomorrow's Leaders
Sponsors
<