Media Partners
Selegogo Molefe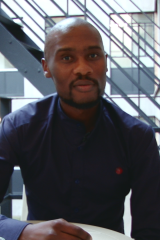 A connector, entrepreneur, caretaker and activist who's a marketer at heart. Selebogo Molefe is the Founder of The Hookup Dinner (THUD), Africa's fastest rising entrepreneurship movement that believes in having and supporting an entrepreneur in every home. He's also co-founder of The People's Fund, an asset-based crowdfunding platform that seeks to unlock capital growth constraints for startups in emerging markets. He has interests in manufacturing, residential property, circular packaging and agriculture. He believes in Africa's economic potential through youth entrepreneurship enablement.
Search for @DrLifesgud online and you might be pleasantly surprised.
For fun, Lebo travels across multiple borders as a bounty hunter searching for entrepreneurial talent to invest in or procure from for his corporate clientele with his team of mavericks located across various markets in Africa.
Website: www.thehookupdinner.com / www.thepeople.co.za
See other speakers
Maserati - Driven by Tomorrow's Leaders
Sponsors
<